BISSELL Zing Rewind Bagless Canister provides a convenient system for household cleaning. It is a well-designed and least expensive product from BISSELL Company.
It is made of a lightweight and compact design making it easy to carry up and down stairs with the floor brush.
This is also facilitated by the incorporated carrying handle. Cleaning is done by attaching the extension wand or dusting brush to capture dirt and dust from the surface.
The cleaning process is very convenient while maneuvering easily. It is designed with a variable suction control system to enable you to reduce the suction and clean fabrics like curtains.
It has the powerful specifications for a high-quality vacuum cleaner.
Zing Canister is certified for safety and ability to clean surfaces of varied nature. It is safe for use by all family members including kids and older people. It is designed for people with a lot of cleaning space who worry about large bulky machines.
Why Would You Buy The BISSELL Zing Rewind Bagless Canister Vacuum Cleaner?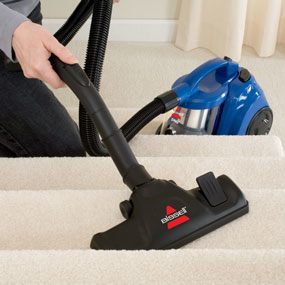 There are many reasons why you should spend your dollars on this vacuum cleaner. One is canister vacuums are very low to the ground and have a very long nose at the Canisters help you to clean hard to reach places with ease.
They also help in cleaning a larger variety of floor surfaces. Their portability makes them great for stairs, curtains, auto interiors, upholstery among critical surfaces. It is very effective due to multi-surface cleaning provided by multi-surface cleaning.
This is facilitated by the cyclonic action and a powerful suction. It helps to capture fine dust and particles with the inclusion of a three-stage filtration.
It is very effective due to multi-surface cleaning provided by multi-surface cleaning. This is facilitated by the cyclonic action and a powerful suction. It helps to capture fine dust and particles with the inclusion of a three-stage filtration. It is very rare to find a low priced model with this kind of performance.
They are very convenient to use since you don't have to buy or change bags. Zing is the best canister vacuum cleaner at the given price. This is one of the rarely seen products that are expensive than they should be.
Features at a Glance
Multi-Surface Cleaning
Three-Stage Filtration
Light Weight Construction
Bagless Convenience
Technical Specs
Surface Type: Carpet, Upholstery, Bare Floors, Stairs, Low Pile
Carpet Power Rating: 9 amps
Cleaning Path Width: 10.1″
Cleaning System: CyclonicWeight:10 lbs
Power Rating: 9 amps
Power Source: Corded
Air Flow Indicator: No
Variable Suction Control: Yes
Power Cord Length: 15″
Automatic Cord Rewind: Yes
Features of Bissell Zing Bagless Canister Vacuum Cleaner in Greater Details
# Multi-Surface Cleaning: The powerful suction and cyclonic action provide thorough cleaning. The cyclonic cleaning provides better and consistent performance. The suction remains the same upon a change from hardwood floors to rugs and carpets. The package also includes a crevice tool and a dusting brush.
BISSELL Canister enables you to clean various surfaces from carpets to hard floors with just a switch flip. The power cord is 15 inches long providing a decent reach. It also includes a multi-surface nozzle. These allow you to clean most things in your apartment. This product is designed with an automatic cord rewind air flow regulator and an easy empty dirt cup.
# Three-Stage Filtration: The filtration is tripled to help capture fine dust and particles. This includes a dirt filter screen, one dirt cup filter, one pre-motor cleaner and a post-motor filter. These filters are washable and reusable.
These powerful systems are powered with a 9 amp voltage amp voltage meter that consumes less electricity. The Zang Canister Vacuum also comes with a simple on and off button for easy operation.
# Light Weight Construction: BISSELL Zang Canister is constructed with the light plastic material. It weighs only 10 pounds making the whole unit lighter and easy to maneuver.
As a result, this model makes the process of cleaning to be easy. The Lift-Off design provides a detachable canister which makes it easy to clean stairs and remote places.
# Bag-less Convenience: This model is bagless compared to other popular BISSELL Zing bagged vacuum cleaners. It enables you to save money since you don't need to buy or change any bags ever. This has contributed to its low price by allowing you to save additional money that would have been used for extra bags.
What We Like:
Very cheap
Effective cleaning
Compact
Portable
Useful on many surfaces
Automated operation
What We Didn't Like:
Flimsy attachment
An absence of a beater bar brush
The material is susceptible to damage
little bit noisy
Final Verdict
BISSELL Zang Bagless Canister is made of plastic material which makes it light. This is combined with the available handle to help you to move the cleaner along the stairs while cleaning. You can also lift it up to clean surfaces like curtains. You can carry it to your car and proceed with cleaning. These provide a seamless and cleaning experience.
It is very useful for people who are recovering from medical problems. The long cord also enables you to clean places that have been hard to reach with ordinary cleaners. The extension wand also provides more maneuvering comfort. The design is also very appealing. You also don't have to pay for disposable bags.
However, you need to buy extra accessory tools for this product to match other high-quality cleaners. You also need to be careful while handling it to avoid breaking the plastic parts. It is also not recommended to turn it on when someone is asleep or in the middle of a conversation since it produces a lot of noise.
Generally, this product is very cheap for what it's capable of doing. Its performance dominates market expectation on a cleaning machine.
Shop now at Amazon.com