Here you will find the help you need to determine the best vacuum under 100 for you, with the addition of comprehensive comparison among them. Scroll down, I am assuring you that the best vacuum cleaner under $100 will be fixed here.
Soooooo, you want a vacuum fast, you want a vacuum cheap. I am here to assist you fast, to pick the best vacuum under 100 perfectly appropriate for you. Without further due, check the comparison chart comparing best vacuums under 100.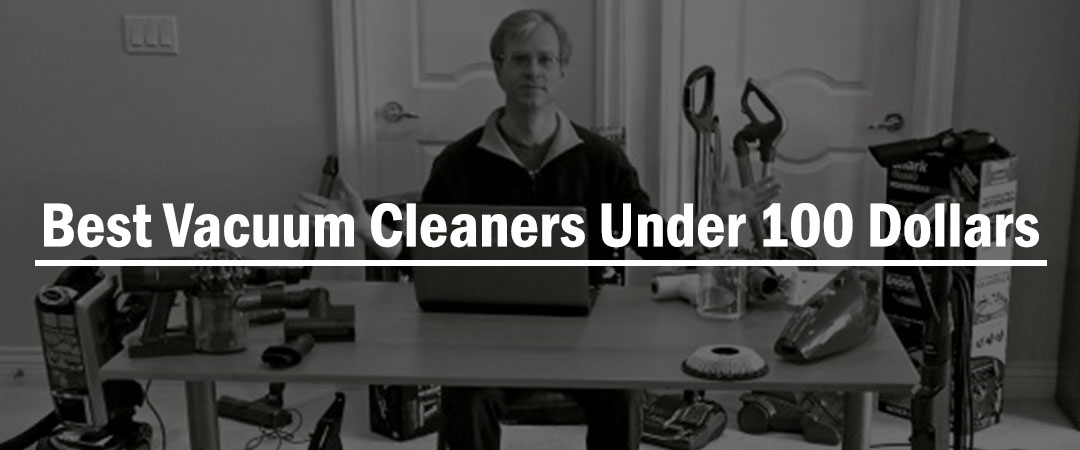 Comparison Table for Best Vacuums Under 100
*Details can be found below on respective sections
The comparison chart above shows the best vacuums you might get under 100 dollars' price point. It is easy to compare their price, weight and type at a glance using the chart. There is one more criterion added by me apart from those typical criteria you may find usually. That is 'best for what'? 
You have to admit that nothing is perfect in this world, everything has some drawbacks or some blind spot where that is not so good, so do vacuum cleaners. However, you can find an all in all vacuum cleaner, eventually, you will. I mean, the Dyson V6 is out there. But you have to pay a bit more than what you are intending to do, to get your hand on a vacuum like this.
What I'm Trying To Say?
What I am trying to say is as they are the best vacuums under 100, they cannot be that all in all vacuum cleaner. It has to have some black spot. Manufacturers do so to cut the price, to make it more affordable.
Why?
Some vacuums are great for unique movement, but they lack in suction power. That's why they are great for hard floor filled with tricky nooks and corners but might displease you while cleaning carpeted surface.
Some vacuums are bulky and weigh much than the others, but come with great suction power.
These are great for cleaning carpeted surface but will make you sweat if you try to clean stairs using them.
Some are great for every type of surface.But at the end of the day you will find out that the cleaning head of the vacuum you purchased earlier with a lot of hope is a bit fat, you bought a fat-headed vacuum that won't fit under your couch, desk or beds!! What a dilemma. You went for the all in one very cheap solution but can't even use it everywhere.
So that is why 'best for what' is needed to figure out which vacuum is created what environment in mind. So closely check the part of the table and If the vacuum is a well fit for the surroundings around you, meets price range you are looking for, go for it.
I have selected some cleaning criteria and picked the choices. It will help you to choose the best fit vacuum for you. The 'best for what' section is based on these criteria. The criteria are – Stairs, Pet hair, Carpeted surface, Maneuverability, performance on edges, Weight, Cleaning time, Noise and Attachment tools or accessories.
That's it!!! You have successfully picked up the best vacuum under 100 you were looking for.
Anyway, enough chitchat. Let's dig deeper.
Let's Find Out More About The Features and Drawbacks of these Best Vacuums Under 100 Dollars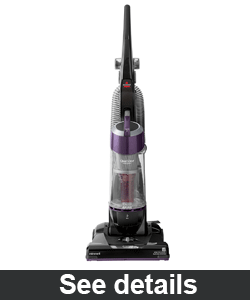 Here comes the number 1 vacuum of the best vacuums under 100, in my opinion. It is the utmost solution you can get below $100. It has some demerits though.
Check Out Its Remarkable Features Below:
Great suction: It is come with the OnePass technology. Marvelous for carpets!
Lightweight: It is an upright vacuum and as an upright vacuum, it is very lightweight vacuum comparing to other upright vacuums.
Bagless: It is bagless and it comes with big, giant dirt holder.Though it makes the overall unit a bit bulky too to fit under little desks or chairs
Premium Rare Attachments: Here comes the best part of this vacuum cleaner. It comes with the Premium hose attachment. It is found on pricey vacuums and the way it to be attached to the main unit, simply great to use. Great for carpet and pet hair
Special filter: it can be equipped with an additional filter bundle that makes your surroundings allergen free and a very healthy one.Don't just clean the floor, clean the air too.
Drawback: As said earlier, for the big dust cup, it might not fit under tiny desks. But I'd suggest to take it more as a pro than a con. Big dust cup isn't a thing you look everywhere.
The best overall performer vacuum under 100 dollars. Great for carpet and pet hair and attachment tools. Time-saving and environment-friendly, keeps your air clean
It is in possession of the best overall performance if you look for a vacuum under 100. It has great suction power, a wide big cleaning head. Great for carpets. It has the premium hose attachment that makes it very convenient for stairs and pet hair. So some the benefits above, it is a very well performer for carpeted stairs which is the most crucial to clean of an entire home I think.
So a vacuum cleaner under 100 dollars is suitable for carpeted surface, stairs, pet hair, comes with a variety of attachment, what else do you want?
Shop now at Amazon.com
It is like an extended version of Bissell 9595A mentioned above. With little upgradations in suction, and a giant leap towards the look. Yeah, you heard me right, this one comes with a killer look.
If you are up for this sorta thing, I mean the marvelous look of the vacuum you possess, this one is for you.
Check Out Its Remarkable Features Below:
Triple Action brush roll: It has two bristle type for no matter what your home surface is. Hardwood or carpet, the Bissell 1332 CleanView plus is God to go.
Bagless: It is also bagless and it is also come with a big, giant dirt holder. Same words go to it too, though it makes the overall unit a bit bulky too to fit under little desks or chairs, but you know that, you have to lose something to get some.
Special Attachment: Here comes the best part of this vacuum cleaner. It comes with the Turbo brush tool. It is found on pricey vacuums and the way it to be attached to the main unit, simply great to use. Suck out dirt deep from the thick carpet.
Aesthetic Look and Automated Cord Rewind: Here comes a fascinating feature of this, the Automatic cord rewind. Just push a button and the cord will be inserted into the unit all by itself.
Special Filter: Last but not the least, the filter of this is massive. It will make the environment allergen free and a very healthy one.
Drawback: The dust cup is big. Maybe too big to fit under tiny furniture.
Great for carpet and pet hair and attachment tools. Time-saving and environment-friendly, keeps your air clean. Another best overall performer vacuum under 100 –AESTHETIC
A vacuum with this kind of finishing touch and aesthetic look, simply mind blown. If you don't mind paying some few extra bucks for a vacuum that will not only keep your home cleaner but also make your visitor surged all by witnessing it, Buy it!!! And the performance? It is more than capable of cleaning stairs, carpeted surface. Much more capable of sucking pet hair, little dirt to the big particle in.
Shop now at Amazon.com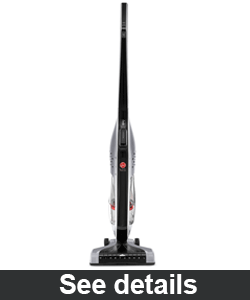 The Hoover Vacuum Cleaner Linx Bagless Corded Cyclonic LIghtweight Stick Vacuum SH20030 is a lightweight all in all stick vacuum.
As a stick vacuum cleaner, obviously it weighs way less than an upright or canister vacuum. But it does accomplish the job as a heavy upright or cord tangling canister would do. So Here I present a greatly convenient all do-er to you.
Check Out Its Remarkable Features Below:
Cheap, wide range of capability & COMFORTABLE: An all in all comfortable vacuum cleaner for your house with relatively less price. Won't make you bankrupt.
Bagless: It is also a bagless vacuum cleaner. Every possible thing to ease you while you are vacuuming can be found in hoover linx Corded.
Wide cleaning head: A wide 11-inch nozzle, easily clean your rooms with less roaming.
Edge Cleaning Bristles: It can clean edges without the necessity of crevice tool.
Drawback: It is simple, too simple. It is the only con I'd say. If you are into the look of your vacuum or something like that. Don't buy it. It lacks attachments. The main unit is well capable of doing all sort of cleaning though, a brush attachment would be great.
The best solution for pet hair and carpet. The easiness of cleaning with effectiveness, another all doer, without much weight and fat body. That makes it the best choice among all described in this post.
Shop now at Amazon.com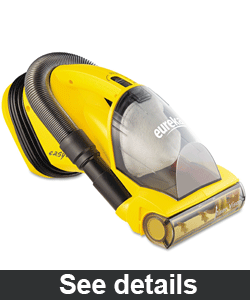 Here comes 2nd Eureka option of this best vacuum under 100 article. It is not a canister or upright vacuum though. It is a handheld vacuum.
If you are intending to purchase a portable versatile vacuum cleaner, want it cheap but also qualified. This is the far best option.
Check Out Its Remarkable Features Below:
Stronger Suction: It has miraculous strong suction power, even at this price point.
Built for Stairs: It is the best and convenient handheld vacuum for stairs in low price.
Designed Especially For Stair Slope: It cleaning head can be swapped for both part of any stairs.
Lightweight: It weighs about 4.8 pounds. Very lightweight.
Long cord: It comes with an extra-long cord for wide area covering with no need of additional socket.
Compact: It is very compactly designed. Fit into hand nicely.
Drawback: Poor performer on cars
The best lightweight vacuum for stairs, hands down. Effectively picks up pet hair too.
If stairs are your top priority, and you want your vacuum cleaner cheap. The Eureka 71B is the one you need.
Shop now at Amazon.com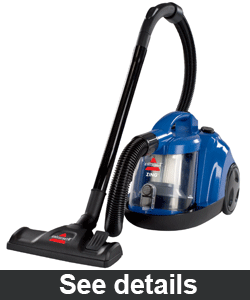 It is the 2nd canister option if you are looking for the best vacuum cleaner under 100. And the third from the Bissell company. Bissell is also known for quality cheap vacuum cleaner beside Eureka.
It is a very good cheap option for vacuuming. People love it. It is one of the most best-selling canister vacuum cleaner ever.
Check Out Its Remarkable Features Below:
Large particle: The other canister option mentioned above is a poor performer regarding picking large particle up. The bissell zing rewind bagless canister vacuum is not bound to that limitation. And you know what? It is great cause most of all canister vacuum is poor performer while you try to pick large particle up.
Easy maneuver: Bissell zing's another convenience is its movement capability. A narrow wide cleaning head is very effective for a large cleaning path while easily reachable to the hardest portion of your house.
Bagless: It is a bagless canister vacuum cleaner. No need to change the bag on a periodical basis.
Multi-Surface Cleaning: It is great for hard floor. Will come in handy for carpeted surface too.
Filter: Bissell always maintains a keen alert look over your environment. The Bissell zing is not devoid of that. It comes with three stage filtration. The dirt cup filters and post motor filter help to capture more fine dust and particles. Moreover, the filters are washable and reusable.
Attachments: Crevice tool, dusting brush are there for your extra cleaning need.
Drawback: None at this price point, the Noise? Maybe?
A hard floor master, won't disappoint you on carpeted surface either. You should not buy it if you only have carpeted surface in your mind though. Very good at picking large particles up. Let aside the tiny dirt- of course. Smart movement, smart maneuver. Very easy to move around, easily fit under tiny desks or couch. VERY CHEAP!!!
Shop now at Amazon.com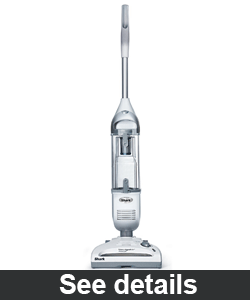 If you are a fan of cordless vacuum, but you want it to be one of the best vacuums under 100 dollar, your waiting is over.
Well, now you have reached the only cordless vacuum that manages to take a place in this best vacuums under 100 article that costs below $100. And it not only manages, it is a bold contender.
It is bagless and also cordless. What more do you want! And you know what, there's actually more that you can find in it.
Check Out Its Remarkable Features Below:
Cordless: It is the only quality cordless vacuum under $100
Pet Hair: Great performance while picking up pet hairs.
Swivel Steering: A great thing of the Shark Freestyle SV1106 vacuum is, its great maneuverability.
Large & Easy To Empty Dust Cup: It comes with a big dust cup which is pretty easy to empty.
Fast Charging: It is charged relatively quicker than most other cordless vacuums.
Charging Based Use For Storage: The Shark SV1106 freestyle vacuum is well capable of that.
Extended Runtime: It can be fully charged on around 3 hours. And the good thing is the charge is not depleted quickly either.
Drawback: It may seem a bit bulky, it is not so good option for stairs while all other vacuum option including corded and bag system is in mind. But if you want a cordless bagless option for your stairs in these prices it would be hard to find one rather than this.
No bending cleaning. The maneuverability is its specialty. Least physical effort needed
The Shark SV1106 freestyle vacuum cleaner might seem bulkier to you, but that is for the big large dust cup. But it moves so swift, the swivel steering they say. And it is actually very helpful. The cleaning head moves here and there according to you wish. It confirms less effort, much, much comfort. 
Shop now at Amazon.com
The last vacuum of the best vacuums under 100, is the Dirt Devil Simplistik SD2000RED. It is the weakest, it is the less suction occupying vacuum among all of the above.
Then why it is here? The price, and the weight. It weighs only 3.8 pounds. It is an under $20 vacuum.
You simply cannot hate a vacuum that will cost you less than 20 dollars and weighs less than a 15-inch Macbook, almost similar to the 12 inch one. Maybe that is why it is one of the best seller stick vacuums. You will reveal some other features if you buy it.
Check Out Its Remarkable Features Below:
Comfort: At such weight, cleaning with it should feel a walk in the park.
A handheld too: It can be easily converted into a handheld vacuum cleaner. Like the dirt devil dust buster.
Lightweight:  WEIGHS ONLY 3.8 lbs(2.6kg)
Transformability: It is a 3-in-1vacuum you can say. It is a stick, handheld and a detail vacuum option in one.
Stairs: As it can be transformed into a handheld or detailed vacuum with the crevice tool on board, it can be a marvelous choice for non-carpeted stairs.
Drawback: It can manage thin carpet though, but it will be a bad choice for thicker carpet.May suffocate to pick up large particles.
Put aside the cheap price, it is probably the best lightweight vacuum cleaner
Dirt Devil simpli-stik focuses on affordability and convenience. It beats all another vacuum if you have only the lightweight convenience in mind. If you live in a non-carpeted small one room alone and seeking a vacuum for your tiny sweet home, buy it. No need to look for other options.
Shop now at Amazon.com

If you have a nicely printed $100 dollar note right now and you are planning to spend every penny of it behind a vacuum cleaner. I would say that you should buy BISSELL 1332 CleanView Plus Rewind Bagless Upright Vacuum. You are getting a jack of all trade with a nice aesthetic outing. But Keep in mind it is a corded one.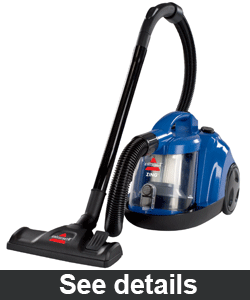 If you want to get some changes out of that 100 dollar note after buying the vacuum but also want a quality vacuum cleaner. I think BISSELL Zing Rewind Bagless Canister Vacuum will be the best for you. The only drawback of it, it is a canister vacuum (if you are a hater of canister vacuum). Otherwise none. And the price? you know what the price is.
And Yeah, that is what I am talking about baby! it is a steal at this price, Best bang for the bucks. You may find some demerits.Figure it out yourself, whether you can bypass the drawbacks or not somehow. if you can, you are the man, just go for it.
Pheww, at last we've reached the end, Jack.
So what are you thinking? Which is worthy of your purchase?
Give a shout below about your thoughts. I will be more than happy to hear out from ya. Cheers!
You may also interested to know about: