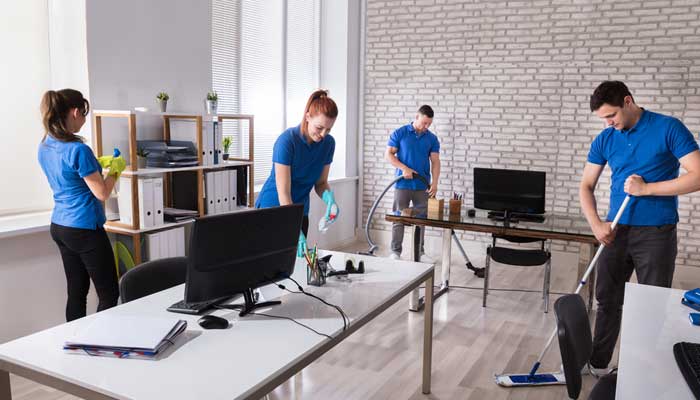 Keeping your office clean is easier than you might think. With just a few minutes each day, you can create a space that is neat and organized to maximize your productivity.
These 10 tips from Shine Cleaning Solutions for cleaning your office will help you create a spotless workplace in no time at all:
Freshen up your space by cracking open the windows on a weekly basis. Bringing in the fresh air can get rid of unpleasant smells and can make your work area feel much cleaner.
Permanent marker stains on whiteboards are a common problem in offices. Fortunately, they can easily be removed with just a little bit of hand sanitizer.
To prevent drips, water rings, or spills at your desk, drink all of your beverages out of a mug with a lid. Along with helping to keep liquids from finding their way into your keyboard or other electronic devices, this will also help create a more sanitary workspace.
If you snack while seated at your desk, you may wind up with a lot of crumbs on your keyboard. One quick, easy way to clean them up is by using the sticky side of a Post-it note.
Make a list of rules for the office kitchen. Post this list in a highly visible area so that everyone who works there knows how to properly use the space to keep it from getting too dirty.
Use houseplants to freshen up your space. Plants can improve indoor air quality. As an added bonus, they can also create a more productive work environment while at the same time helping to relieve tension.
Prevent the spread of germs by having hand sanitizer readily available in several different places throughout your office.
Set aside a specific time for cleaning up the kitchen. Depending on how dirty the office kitchen gets, once a month usually works well. On that day, toss any leftovers or condiments that are past their expiration date. Consider freshening up the fridge by sticking a box of baking soda inside to help absorb odors.
Only throw food away in the kitchen garbage can – not in the garbage can at your desk. This will help keep unpleasant odors away.
Try to see your office through the eyes of a client. Start at the front of the office and make your way through, cleaning up any areas that are dirty or unorganized.