From the era of innovation to the reach of future.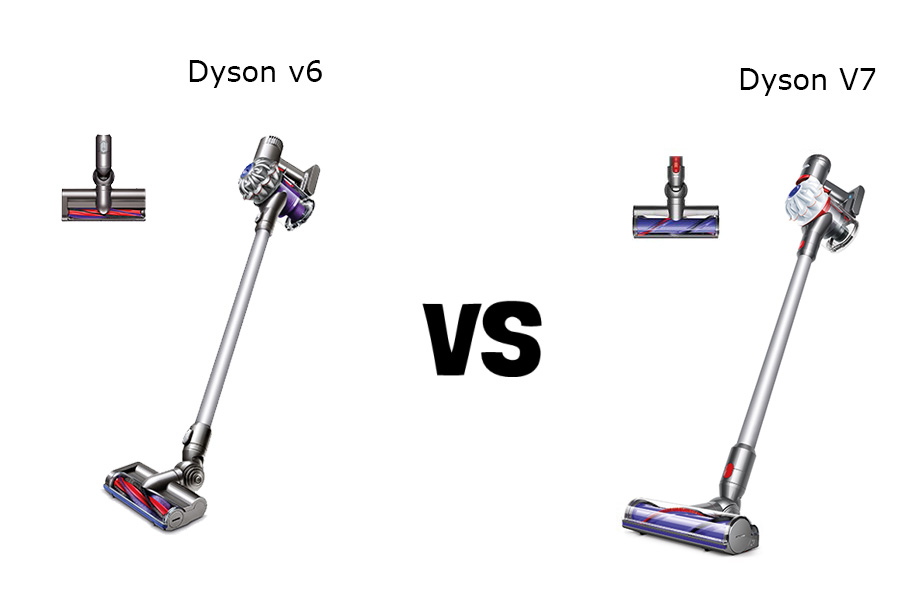 Dyson V6 vs V7, which to choose? I got this question often. Really, which to choose? To get the answer, we'll have to go through a very in-depth comparison between these two. It is given here in this article. I've organized this article in such a way, where you'll be introduced to both of them first, then you'll go through the similarities and finally; there will be dissimilarities. Hopefully, you'll get your desired information by then.
Introduction to the World of Dyson Vacuums
A vacuum cleaner is one of the most common household appliances. From usual cleaning to saving time and energy; vacuums are one of those electro stuffs you simply can't go without. But is it just a cleaning tool? Are the simply electric air pumps keeping the dust away? Well, you could have said that til the early 90s. However, with the turn of a new century, everything took a leap forward into the future.
With Google starting to index the web and The Pathfinder from NASA landing on MARS; household electronics took a dive forward as well. In the late 90s; Dysons Technology Limited started to develop more powerful motors as well as reducing their sizes. This literally broke the continuity of the motors; which was more than a century old technology. And today we are merely talking about two imperative steps of that revolution, Dysons V6 and V7 series.
More Power Yet No Wire, Presenting the V6 cord-less Vacuums
As vacuum cleaners started to became more than a dust cleaning machine, James Dyson and his team spent eight years on research which started from simply motorcycle impellers. Finally, the revolution of electronic appliances took a major step with their variety of cordless, portable yet powerful & stylish vacuums with different specs and models.
So how much power are we talking about?? The eight years of hard work gave life to the 200 watts Dyson V2 motors at 2009, capable of centrifuging at ALMOST EIGHTY THOUSAND rotations per minute (RPM). After a couple more years, V6 motors were ready who topped at 350 watts rotating 110,000 times per minute.
But if you can't properly apply your power then there's no point for all these fusses at all. That's why the weight and center of gravity were shifted by placing the battery on the handlebar. As a result, with the perfect CG, it was possible to clean from floors to ceiling.
Improving the V6 without Compromising the Perks
With more and more successful ventures the V6 kept up with the time. With stronger materials to sustain all that power, V6 went to a whole new level by applying Formula 1s usage of carbon fibers in the new flywheels.
Therefore the latest flywheel titled officially as KERS was capable of handling way more stress; but with a super light-weight casing. Now that's something more than remarkable; using F1 technologies on something that was just an electric broom only a few years ago.
Latest From Dyson V6
With the remarkable milestones, the V6 is always performing at its tops with newer techs. As we have mentioned earlier about the powerful V6 motors, the engineers boosted the airflow as well. Peaking at the top, V6 remained energy efficient with the one-touch power button, and last but not least emptying the whole bin with one single click.
Shop now at Amazon.com
Continuing the Journey with Progress; Presenting The Dysons Vacuum V7
Just as your dentist recommends you to brush more, house cleaning experts will say the same for a cleaner and hygienic interior. So with the groundbreaking performance of the V6, an additional 75% more brush (whoa!) was added. And so the V7 Motorhead was born.
So where are those teeth on that dirty floor? Well, it may not be visible in plain sight but furry carpets & even your most favorite rug may have invisible dust and what not inside their folds.
And this is more applicable for people living in a dry and/or dusty area. Fear not, that's why those extra brushes to clean every part of your house efficiently.
Other V7 variants
Just as the V7 Motorhead packs extra brushes, there are similar other V7 variants with unique specialties. Same top-notch specs with new or added abilities in each; there's the V7 Absolute, V7 HEPA & the V7 Animal Vacuum.
Shop now at Amazon.com
All V7 Variants at a Glance

With up to 30 minutes of approximate runtime and a wide variety of add-on available for all of them; each V7 version represents their title. Nevertheless, the price tag on the different models is dependent on features and what's included in the package. Click on the NAMES to get more info
Dyson V7 Motorhead
is remarkable for its extended brush system.
Dyson V7 Absolute   
supports a wide range of tools to add and also the most popular one.
Dyson V7 HEPA         
is titled for its HEPA filter system to vacuum allergens.
Dyson V7 Animal Vacuum
has the HEPA filter and specifically designed for homes with pets.
And of course, each model has some free tools along with the stock tools. So what's your pick for your home?
Before We Move to Comparison…
Being back to back versions of each other, the V6 and V7 have a lot of similarities; unlike the V8 which is more upgraded comparing to V6. So let's see the similarities in a glance before we point out the differences.
Dyson V6 and V7 – Common Features
Both V6, as well as V7 series, are equipped with these similar features:
3.5 hours of charging time regardless of the difference in sustaining power.
Both are equipped with Dyson's trademarked feature called – 2 Tier Radial Cyclone.
Equipped with a washable and lifetime lasting filter system.
100AW suction power, only the V7 series motor makes it more efficient.
Confrontational Comparison of Dyson Vacuum V7 vs V6 Specs Plus Features
By now you must be overwhelmed with the perks of both versions, but before deciding let's have a walkthrough of the differences based on the above info. For a better understanding, let's compare the main features of capability according to the specifications.
But Before comparing both side by side, let me show you the price differences between them first. Click the links below – 
Battery Backup variance between Dyson V series 
Being cordless- on the go vacuum, you should first get a grasp of how much run time
you will get in a run. The V6 is capable of running up to 20 minutes whereas all V7 variants have a 30-minute runtime rating. Well, both should be enough for basic home cleaning sessions. However if u have a bigger house/interior to clean, or if you have a workshop or someplace where it requires more cleaning then the extra backup time will come in handy.
Cleaning Head Type Comparison of Dyson 
The primary V6 is called Fluffy because of its soft roller cleaning head. Plus, the soft roller allows suction through the front so u don't have to push around like an ordinary vacuum. On the other hand, the V7 series offers direct drive heads which sucks out dirt and debris from beneath. Depending on the user both have their perks, yet direct drive allows a powerful suction which is a plus.
Best durability? V6 Or V7?
The soft rolling head on the V6 may be handy and effective. But a small con is that the head may need frequent maintenance (depending on usage). Whereas the V7 has a direct roller head pointed vertically. So it may be a little less effective in some cases. However, it won't need frequent maintenance on any type of soft or hard surfaces; comparing to V6.
We've learned about the cleaning head type and durability of both of the vacuums. Now, let's move towards some very common properties like motor power, bin capacity and the size and the weight.
Motor Power
Even though both versions are equipped with Dysons Cyclone technology, they respectively use the V6 and V7 motors which represent their title. The V7 is the later and upgraded version which is more efficient even with the same technology and suction power capability.
Bin Capacity
As the V6 is designed to run for 10 minutes less than the V7, it's pretty obvious the dirt bin will be comparatively smaller. But most users feedbacks state it's actually too small. Even though it makes the V6 lighter, easy to move and lift; the bigger bin on the V7 reduces the fuss of frequently emptying the dirt bin.
Size and Weight
Lastly, the dimensions. The Dyson V6 is sized 9.8in (H)* 47.5in (L)* 8.2in (W). On the other hand, V7 is physically 8.2in (H)* 49in (L)* 9.8in (W). The 1.5in difference in length doesn't matter much for reaching out to the ceiling or such surfaces. The width on V6 maybe a little easier to get into tighter spots. But the main difference is the weight, V6 weighs 5.1lb whereas the V7 is 5.45lb. The smaller dirt bin may make the V6 a little easy to move around, but it also requires frequent cleaning/emptying the bin as mentioned earlier.
Before reaching towards the conclusion, I'd like to say a thing or two about the Absolute version of the Dyson V7.
It is the most pricey from the V7 variants, and it's because the premium attachments you'll get which are unavailable with the other variants.
However, if this thought hit your mind that "Well, I need those attachments but Whoa! that's a lotta bucks" – I have a less priced option for you where you'll still get premium attachments. To know more about what add-ons will be available and what not, along with the prices – refer right below.
Dyson V7 Absolute
Shop now at Amazon.com
Dyson V7 Motorhead with Mattress Tools
So Which Should be The Better To Pick at Conclusion?
Having all those similarities it's a bit confusing to pick between the V6 & V7. It will differ according to what type of environment the user has at his/her home. But overall, it's better to pick according to the filter and cleaner head type, as well as dirt bin size. So to reach the final verdict, the V7 is a win-win for most users, especially the Dyson V7 Absolute for most variations of usage, as well as the battery backup and bigger bin.
Before logging off, allow me to present the convenience of getting the product information of both for the last time.
Pssst, Do you know that you can buy just the Dyson V7 trigger, the handheld portion only with a way much-reduced price? Check the Dyson V7 Trigger Here.
Brandy A. Cherney lovingly refers to herself as a cleaning geek, born and bred in South Carolina but moved to New York City to earn her B.A. in English. She is currently a wife, and mother of two children, two cats, and a dog. Brandy has always loved writing, but never thought she would write for a living.