As the introduction, this discussion is about MIELE C1, C2, and C3. And looking for a solution, which is going to be the best option for you to buy.
Miele has the reputation for building long-lasting vacuum cleaners. Their vacuum cleaners are highly qualified. In the lineup of Miele vacuum cleaner has – uprights, sticks vacuum plus lightweight, and robot models.
The interesting thing about robot models is, you can fix a schedule and that gonna follow it. From all of them, the Miele canister is their icon model, which started the revolution in the vacuum cleaner industry.
So, as a matter of fact, Miele has many models and every model has their own role. Long-lasting vacuum cleaner, cleaning skill, battery lifetime, comfortable using process, and looks makes every model a unique model.
So the big question is which one is the best fit for your home?
We are going to compare Miele's best C1, C2, and C3 canister vacuums and hopefully, this comparison may answer anything you in your mind.
MIELE C1 vs C2 vs C3 – A Buyer's Guide in 2019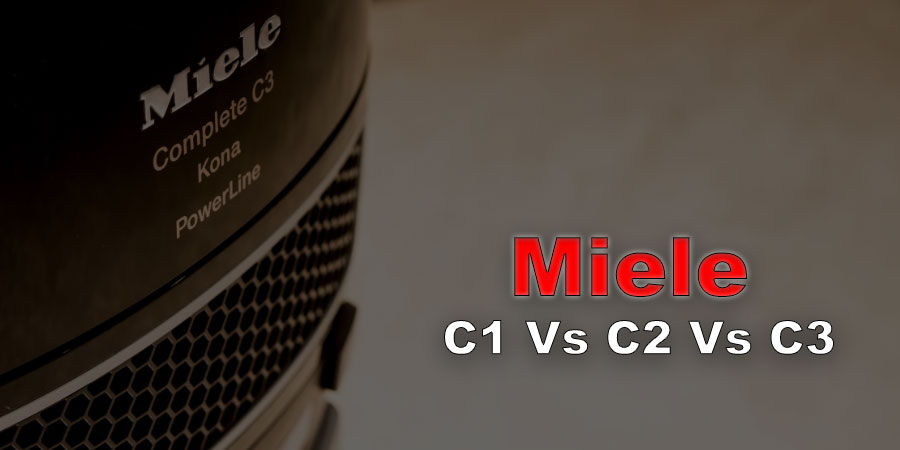 C1 is the entry-level vacuum of Miele. But the unique skill of cleaning and its construction make it superior in the vacuum cleaner market.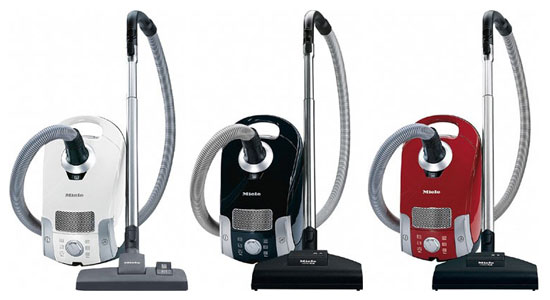 Picture: Compact C1 Pure Suction, TurboTeam, and Homecare PowerCare PowrLine Canister
| | |
| --- | --- |
| Model of Vacuum Cleaner | Miele C1 |
| Motor | Miele's 1200 watt Vortex Motor |
| Cleaning Head | Straight-suction |
| Filter | SF-HA30 HEPA Air Clean Filters |
| Dimension | Height- 18.2 Inches & Width- 11 Inches |
| Weight | 16.1 pounds |
| Cord Type | with Cord and One-Touch Cord Rewind |
| Cord Length | 18 Foot |
| Hose | 5 Foot |
| Dust bags | Multi-layer |
| Dust bags capacity | 3.5 Liters |
| Noise Level | 57 to 79 decibels |
| Accessories | upholstery tool, a Vario  Clip caddy, a crevice nozzle, and a dusting brush |
| Ideal for | Bare Floor |
The clamshell design of Miele C1 helps to access filter chamber and dust bag. All control buttons are in the wrist strain. And easy to operate.
Miele C1 models:
Olympus
Capri
Delphi
Titan
All of them are good for hard flooring/ area rugs, soft/medium pile carpeting.
Which makes C1 so popular, of course, is its powerful suction, great cleaning quality, durable function. And definitely, it's affordable pricing.
Shop now at Amazon.com
Looking for an option rather than Miele C1, here it is, the Miele C2. Smaller than C1, you can store it easily and suitable to transport multi-storied house.
And Miele also uses HEPA filtration on the C2 version. That filtration is a great solution for who has asthma or allergy in household and pets.

Picture: Miele Compact C2 Series
| | |
| --- | --- |
| Model of Vacuum Cleaner | Miele C2 |
| Motor | Miele 1200 watt Vortex Motor |
| Filter | HEPA Filtration |
| Exhaust Filter | Airclean Filter |
| Dimensions | Height- 9 inches, Width- 9.6 inches |
| Weight | 18.74lbs |
| Suction Tube | Stainless steel telescopic tube |
| Dust Bag Capacity | 4.5 liter |
| Cable Length | 6.5 meter |
| Covering Radius | 33 foot |
| Cord Type | With cord and one-touch cord rewind |
| Accessories | upholstery tool, a Vario  Clip caddy, a crevice nozzle, and a dusting brush |
| Ideal For | Large area rugs, wall-to-wall carpeting, and bare floors |
Smaller body size make Miele C2 more attractive and popular among the buyers. It has a world class air filtration system. Mainly Miele design C2 as a hard floor cleaner but it can do some decent clean on the lower pile carpets.
Miele C2 models,
Quartz
Onyx
Topaz
Jasper
All of them good for hard floor and short/medium pile carpeting. And being a small canister vacuum cleaner, for sure, Miele had done an excellent job when they brought C2 models in the market.
Shop now at Amazon.com
There is another listing available of the Miele C2 vacuum cleaner where you can get some additional attachments. Check the link below.
Shop now at Amazon.com
Miele C3 is the most complete version. Miele brings their largest and the most powerful canister vacuum cleaner here. Someone looking for all household cleaning with all types of carpets, Miele C3 is the one he/she must choose.
Picture: Miele Complete C3 Canisters
| | |
| --- | --- |
| Model of Vacuum Cleaner | Miele C3 |
| Motor | Miele 1200 watt Vortex Motor |
| Filter | HEPA Filtration |
| Weight | 12 pounds |
| Type of Cleaner | Canister |
| Noise Level | 72 DB |
| Cord Type | With cord and one-touch cord rewind |
| Length of Cord | 25 feet |
| Dust Bag Capacity | 1.19 gallons |
| Accessories | upholstery tool, a Vario  Clip caddy, a crevice nozzle, and a dusting brush |
| Ideal For | Multi-surface |
Miele has the reputation for a long lasting vacuum cleaner. They never used the plastic extension, Miele C3 has a metal extension. Sturdy feeling and will last for at least 15 years.
Miele C3 models,
Alize
Brilliant
Calima
Cat & Dog
HomeCare
HomeCare+
Kona
Limited Edition
Marin
Miele C3 has multi-surface cleaning capacity. So in C3 version Miele has done an outstanding job.
Shop now at Amazon.com
Here's also another listing available with some more cool additional add-ons, and the color is just killer. I like this very much.
Shop now at Amazon.com
SO, WHAT'S THE BIG DIFFERENCE BETWEEN MIELE C1 vs C2 vs C3:
Miele has some common things in these three versions:
The common feature of Miele is "compact system". If you have a relatively smaller house, then Miele is here to save a lot of space in your house. All of their models has this space saving feature

Long cord getting into your way? Miele has the feature "one touch cord rewind"This feature helps you to keep the cord out of your way

"Comfort Handle" This handle desinged to reduce pressure, during long vaccum session
Now we are going to compare these three models at some point:
1. Adjustable Suction of Vacuum Cleaner:
Miele introduced 1200 watt Vortex motor with 6 suction speeds all these models. So, you can adjust your favorite suction mode as you like.
In C1 & C2, suction mode and speed via dial knob but in C3 it can do by foot pedals.
Now, you can take a decision which one comforts you.
2. Dual Floor Heads of Vacuum Cleaner:
All three models have two nozzles, which gives you plenty of versatility of floor-type.
In Miele, C1 has two heads:   *Turbo Comfort Floor Head
*The Parquet Twister Nozzle
Turbo Comfort for Low-pile and medium-pile carpet. And parquet twister is for hard-floor.
But in C2 & C3 Miele introduced extra-wide and five height adjustable floor head. This head good for plush carpeting. By these two heads, you can clean all types of floor.
So, clearly C2 & C3 stand one step ahead than C1.
3.Telescopic Above-Floor Reach:
To clean top to bottom of your house, you need the ability to reach to the top of your house. So, Miele came up with a solution. Each of their models has a stretchable plus durable hose and telescopic wand.
This telescopic wand makes work so easy and wand made of stainless steel. So, you need not to worry about the dented.
Any of these three models you choose, you will get three great accessories.
A dusting bag
An upholstery tool
The crevice nozzle
With C1 & C2 you will get a VarioClip, to hold these three attachments at once. As a replacement of VarioClip, Miele C3 has an onboard caddy with a hinged lid.
So, in this category, it can say that Miele made C1, C2, and C3 much even.
4. Vacuum radius:
Miele added a long cord with their vacuum cleaner so that the vacuum cleaner can get wider vacuum radius.
Miele C1 cleaning radius almost 29 feet.
Miele C2 cleaning radius almost 33.5 feet.
Miele C3 cleaning radius almost 36.5 feet.
Who is worried about long takes long time to rewind, don't worry Miele added an automatic cord rewind button. One push and your long cord rewind problem are solved.
So, who is looking for long vacuum radius, now he/she know which one to buy.
5. Light and Portable:
Each Miele vacuum is super light. And it's very easy to carry these vacuum cleaner one place to another place.
Miele C1 – 13 pounds
Miele C2 – 14.5 pounds
Miele C3 – 15 pounds
These three models roll smoothly also. Instead of having four wheels Miele designed their vacuum with a pair of wheels and a pair of the caster. It allows vacuum cleaner turn 360 degrees, and having rubberized texture on the wheels leaves no marks on the floor.
So, all three models are easy to pull.
Miele brings two types of handle configuration on their three models.
Miele C1 has angled handle for wrist comfort. But C2 & C3 has the handle over the wand connector for superior comfort.
So, again it's a tie between these three models.
6. Filtration System Totally Sealed:
Are you afraid of dust bag, dirty hand, headache or allergies? Don't worry Miele has quite different ideas to get rid of these problems. Their designed dust bag is completely sealed. This bag featured auto-seal opening instantly closes bags are inserted into the vacuum cleaner or removed. So dust can never come out from the bag.
Dust bag capacity is quite different on these three models.
Miele C1 – 3.5 litters.
Miele C2 – 4.5 litters.
Miele C3 – 4.5 litters.
This bag has nine protective layers. So it prevents an unfortunate leak.
In the filtration system, Miele has three filters.
A motor-protection filter- keeps large, clog-causing particles.
An exhaust filter- a stronghold between the vacuum and the air.
The AirClean HEPA filtration- captures 99.99 percent of allergens.
These filters have 50 hour lifetime. After that, it should be replaced. An indicator light will warn you.
Best Buy Option:
Now which one should be the best buy option among them is harder than we started a discussion about these three models. Each model of Miele is unique and suitable for your house. So, we summarized this for you. After we compare everything between the three models, we can say that: